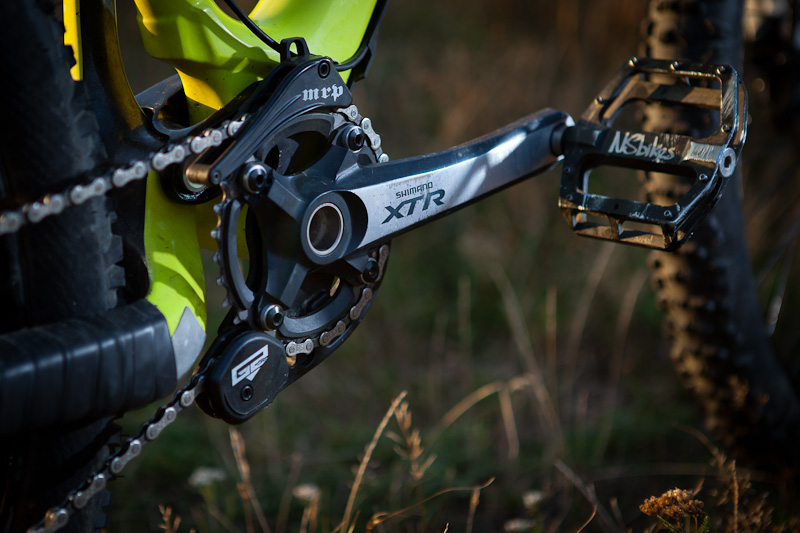 Exactly 1 year ago I bit the bullet and I have converted my Ibis Mojo HD to a single chain ring drivetrain. After those 12 months I can honestly say that 9 gears (10 respectively) is all I need. I would like to share my experience with you and summarize what it costs you and what can you gain from it.
What do you loose:
1. Your big and/or small chain ring, obviously:)
You also don't need your front derailleur and shifter anymore. All these parts with bowden and cable combined can save up to 450 grams (150g for shifter, 150g for derailleur, 50g for big ring, 30g for small ring and 50g for bowden and cable).
2. Your highest and lowest gears
This seems to be the biggest issue for most people I talk to about single chainring. Let's do some math: 3x9 combo with 22-32-44 chainrings and 32-11 cassette offers you gear ratio of 0.69 - 4.0 (you will get similar numbers with 2x10). 1x10 setup with 32t chainring and 11-36 cassette offers you gear range of 0.89 - 2.9, which is 63.4% of the original. Seems like a huge loss of gears... but is it? With 2.9 lowest gear ratio (1 full pedals rotation turns the wheel 2.9 times) you can easily pedal your bike at 40kmh (±25mph). Do you really need that 4.0 (44/11) gear?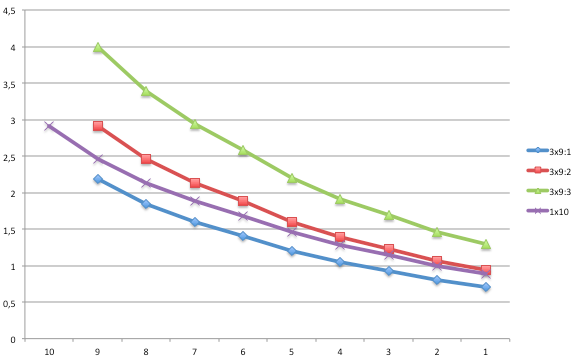 On the other side, your highest gear will be 29% harder to spin... There is no denying that, but i will get back to that later.
3. Safety net of a granny ring
With your 22 teeth chainring gone you can't longer rely on it in those steep, technical climbs. You have to put the power down or hike.
What do you get:
1. Much stronger legs
I really struggled during the first two or three weeks when climbing and I had to push my bike a lot. After a while climbing became easier, I was able to make climbs I never thought were possible. Now I can climb 25% gradients without problems. I also regularly ride 75+ km epics with over 2500 vertical meters (8200 vertical feet) of elevation.
2. Zero chain drops
With my extra chainrings gone I could fit my bike with MRP G2 SL chain guide. It keeps the chain in place and reduces chain slap. It also saved my bottom bracket at a crash at least once.
3. Better clearance
Without the big chainring you don't have to worry about hitting rocks and logs with it. You can also use short cage rear derailleur (like Shimano ZEE 10-spd rear derailleur) as it has 25t chain capacity, so it can be used with single chainring and 36-11t cassette.
4. Cleaner cockpit
Without you front shifter you get much cleaner and less cluttered handlebars.
5. Simplicity
With less mechanical parts there is a lower risk or something breaking or going wrong. Drivetrain is easier to setup, too.
6. Peace of mind
I saved this one for last as this is the biggest benefit. With multiple chainrings you have to think about gears. "What gear am I in? Am I crossing my chain? What's the best gear combination for the next climb?". When you have only one shifter to use, this distraction is gone. Do you need to go faster? Just click and you have lower gear. Is it too hard to pedal uphill? Just click and you have higher gear. You tried to click but nothing happened? Well, you are out of gears so MT*U!
This doesn't seem like much until you try it for yourself. I find myself riding in the zone much more than before. Simplicity became my mantra. I got rid of everything I could: I don't use HR belt or bike computer anymore, I don't have fork lockout or pro-pedal lever on my shock. I don't want to get distracted from the trail. Combined with stuff I've learned from Mastering Mountain Bike Skill by Brian Lopes and Lee McCormack this is a killer combination.
Are you interested in single chainring drivetrain, but you don't want to take your bike apart just yet? You can try it out immediately. Just forget about your front shifter. It can seem too hard at the beginning but stick with it. After couple rides you will realize you don't miss it that much. You will get fitter, your legs will become stronger and you will climb faster. You will have to wait for your buddies at the end of every climb, though;)
Very few things can be learned just from reading a book, but this one has opened my eyes and I realized the mistakes I was doing. Well written with great images it's an investment well worth the money. Check it out