I've been checking out the Lucifer L for a while, but I already had a headlamp, ehm, multiple headlamps and there was no need for a new one. Then we did our first night ride with the little one and a need arose. Ideally, the new light should be stronger than my old Gemini Olympia, so I wouldn't cast a big shadow in front of him.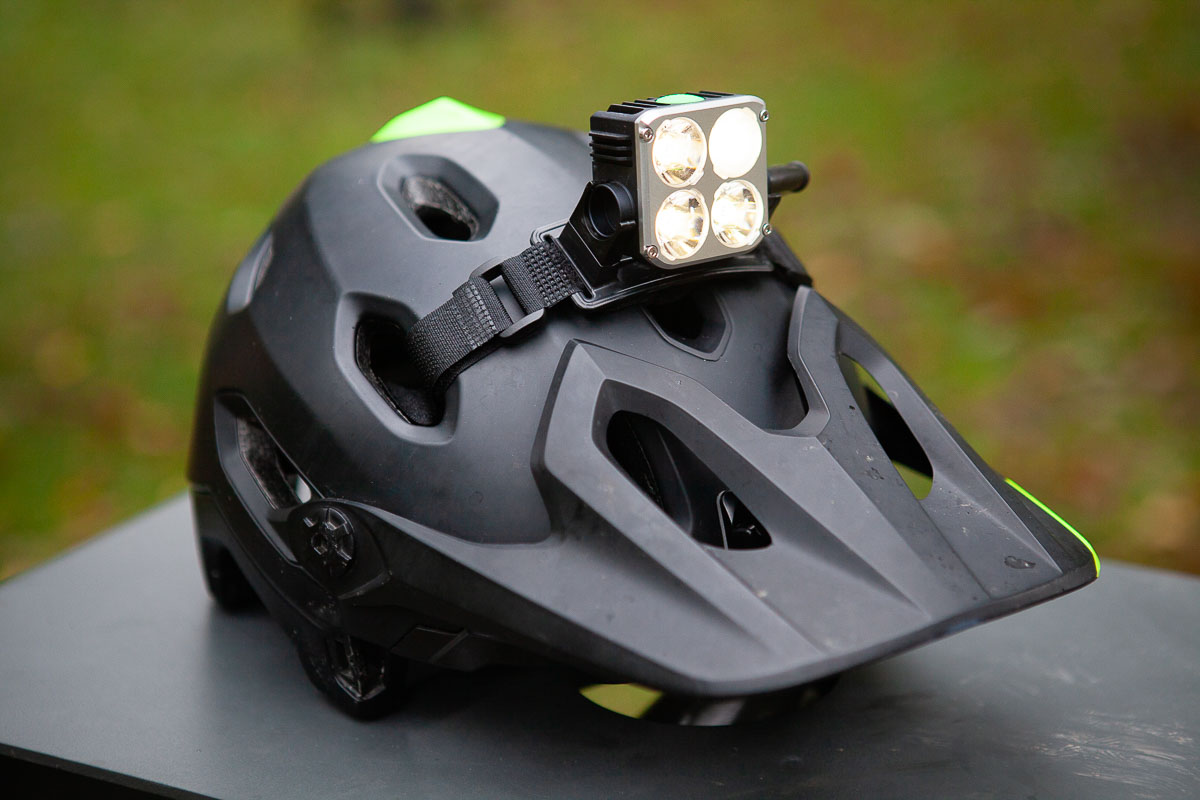 Unboxing
The headlamp arrived neatly packed in a cardboard box, but there was nothing fancy about it. Package includes
headlamp
head strap with a battery pocket
4-cell 6900mAh 48Wh battery pack
1.5A 220V European style socket charger
1m extension cable
helmet mount - ordered extra as an accessory
cloth pouch with 2 compartments for storage
user manual and a card
Build quality
The Lucifer L headlamp is nicely made and oozes quality. It's made completely of EU made parts. The only chinese part is the rubber switch cover on the top. Thanks to this it comes with an extended 3 year warranty and full service available after that period.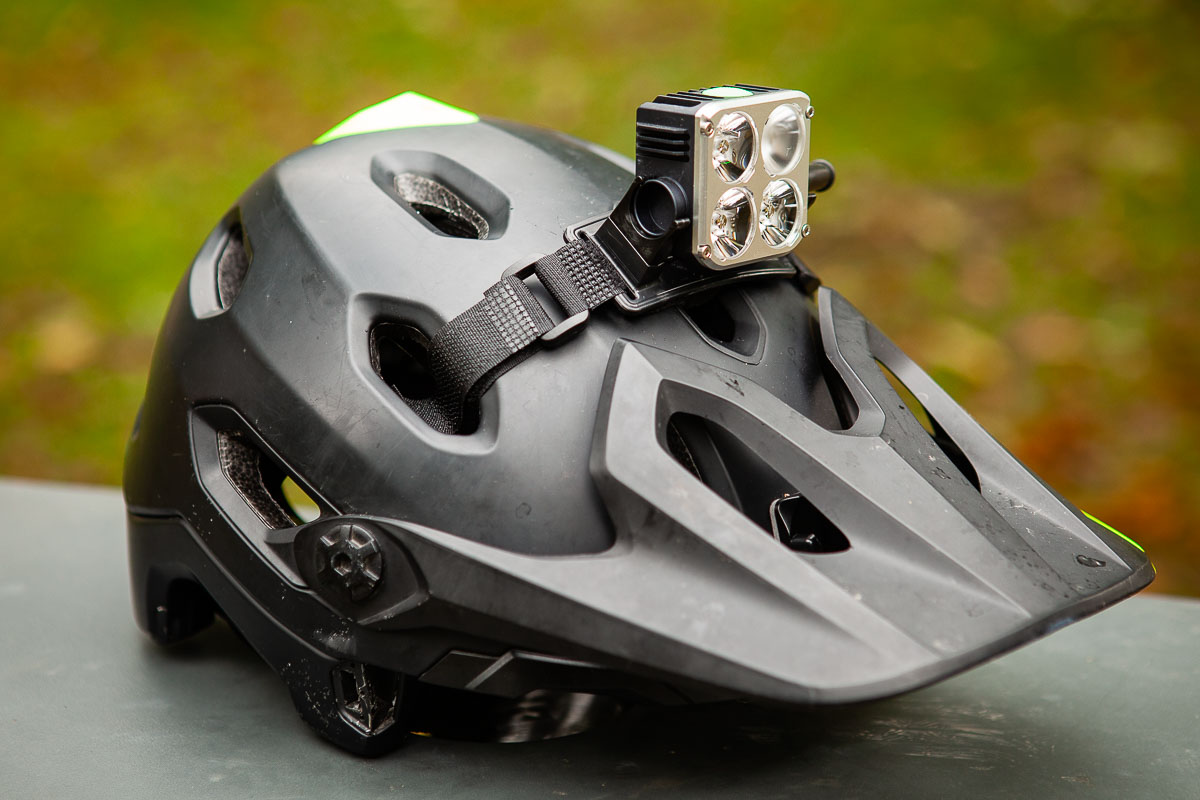 The head strap and helmet mount both use a click system to hold the light. It's simple, practical and offers wide range of adjustment. It's also useful in case of a crash, where the light would click out of the mount.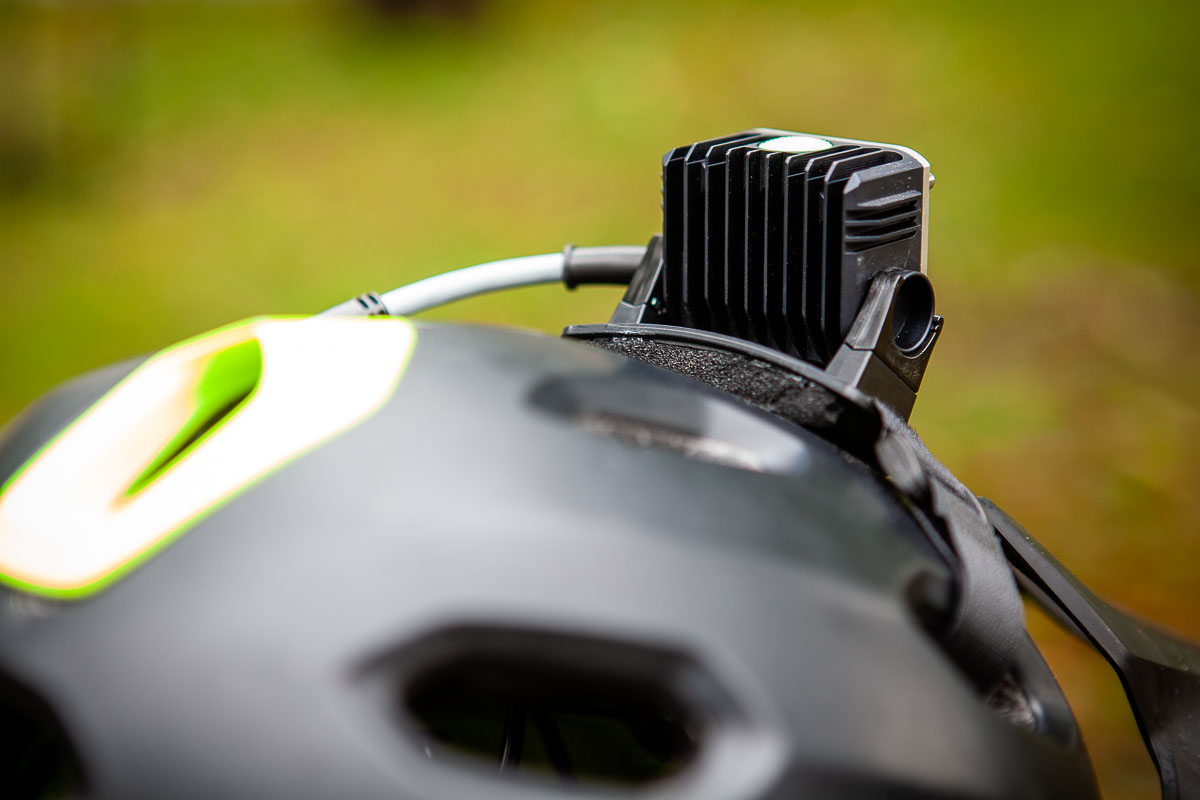 This picture shows my attempt to improve the helmet mount by gluing a strip of a foam to it. There's nothing wrong with the holder as it is, I just tend to "improve" things...
There are massive cooling fins machined at the back of the headlamp. Thanks to these the light is able to sustain the boost mode without any limitation while moving (brisk walking pace is enough to cool the light).
Lucifer L Headlamp Specs
4 Cree XP-L2 emitters (max light output 1175lm per emitter, the advertised total of 3200lm seems real)
3 200 lm, 4500K, 70CRI
runtime Boost mode 1h:40m, High mode 4h:00
Weight: 73g - light head only
Manufacturer's website: https://luciferlights.net/en/headlamp-l
The power on Boost mode is huge and if you are not used to hi-power flash lights it will definitely impress you. It's comparable to high beams on a modern car. The neutral 4500K light is very pleasant to the eye.
Here is a sample video of a MTB night ride with Lucifer L mounted on a helmet and Gemini Olympia (1700lm) mounted on the handlebars.
Lucifer L Headlamp Modes and controls
The headlamp operates in two modes. The simple one just cycles Low, Med, High and Boost mode. The advanced mode (which comes as default) uses short clicks to cycle between Low and Med, and long clicks to switch to a stronger mode. Very long click turns the light off. It might sound complicated ad first, but after a short learning period it's possible to get to any desired mode with maximum of 2 clicks. Extra low mode is access with a double click, blinkie with a triple click and SOS with a quad click. Here comes my only gripe with the controls. If you blast through the forest on high, want to switch to Boost but hold the button too long, you will turn it off instead.
Optics configuration and light quality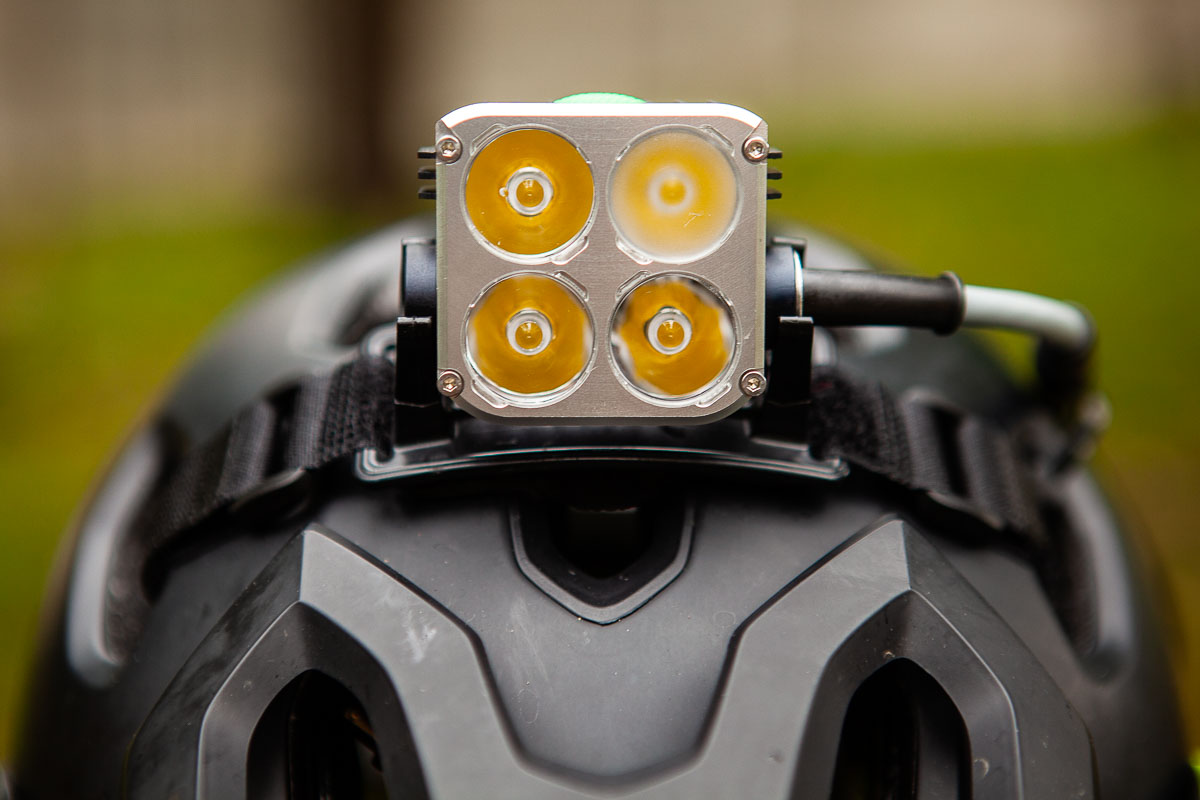 The manufacturer offers 3 different options to choose and combine. The default combination is 13°+13°+20°+29° and offers a good blend for general use. I've picked up 13°+13°+13°+20° for fast MTB riding. After trying it out, 13°+13°+13°+13° might be even better, but it would hurt other use, so overall I'm happy with this selection. The light pattern is pleasant with dominant hotspot that provides plenty of reach on the trail, with light feathering to the sides nicely.
Lucifer L Headlamp Runtimes and charging
The light comes with a 4-cell battery pack, you can choose between flat and square configuration. A 2 hour MTB ride with a mix of Mid, High and Boost usage of about 10:30:60% resulted in a 30% of battery remaining after getting home. The light notifies you about the remaining capacity with 1 blink (33%), 2 blinks (10% remaining) or 3 blinks before it turns off. It's possible to test the battery on demand by turning the light on with a long press. Then the light will blink once for every 20% of battery remaining (0-20, 20-40, 40-60, 60-80, 80-100%).
It takes about 5 hours to fully charge the battery with the supplied charger.
Cooling perfomarnce
Manufacturer's website says the light can sustain the High mode while walking around and the Boost mode while running/riding a bike.
I took the light for a slow walk with my kids (2 year old walking pace slow). It was 12°C outside, with a very light drizzle. I set the light to High mode and checked the temperature regularly with my hand. The light was warm and pleasant to hold after 25 minutes. My guess would be around 35°C. I tried to turn of the light, let it cool for couple minutes and turned it back on to High. The intensity looked to be the same.
Video was recorder with a GoPro 9 in timelapse mode. ISO was fixed to 800 so it'd have use the longest possible shutter speed and couldn't adjust the exposure if the light started to fade.
I then set the light to Boost and continued to walk slowly again. It got too hot to hold after about 7 minutes and stepped down to High abruptly after 8 minutes. I'm really impressed by how well the light can cool itself.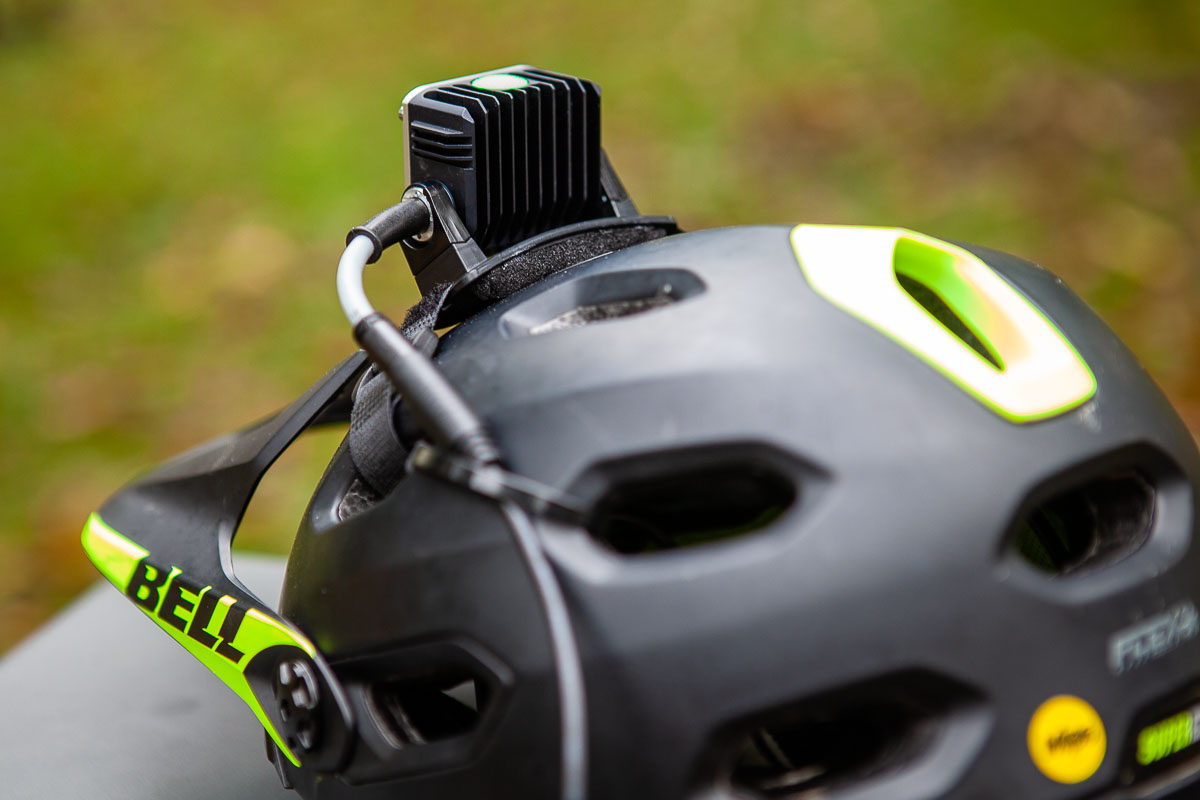 Conclusion
Lucifer L headlamp is a pleasant surprise in the world of MTB headlamps. It combines a very high output, long runtimes and a pleasant warm-ish light. The asking price might seem quite high, but it's actually not that bad compared to similar MTB lights like Lupine Betty or Wilma. The biggest part of the price is reliability as the last thing you want, while riding fast in the forest, is your light malfunctioning. Also, I expect at least 10 years of service from this light, so the overall cost of ownership is much more reasonable and maybe even better compared to cheap chinese lights.
Check out our Youtube channel or Instagram and consider Subscribing/following us, if you like our content!