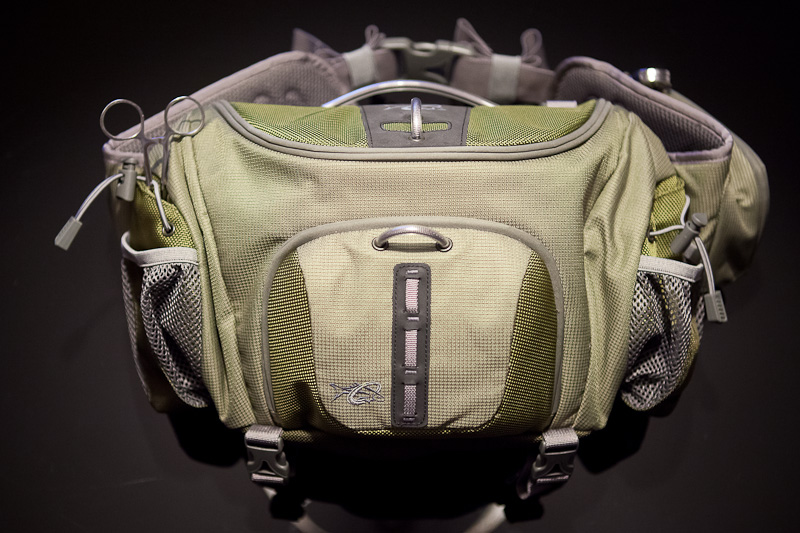 Getting it out of the plastic wrap it came in, I read the attached label that said: "The ZIP-NO system provides the following: ... A fetish for opening and closing your pack ..." 🙂
Dimensions
Volume: 825ci / 13.5l
Weight: 850g
Overall, it's smaller than I expected. Compression straps at the bottom are very handy and keep the bag sleek when not fully loaded. The belt is generously sized. I'm 186cm/81 kg wearing 31" waist jeans. I didn't have my waders on, but wearing a T-shirt and jeans, I had to tighten it almost all the way, leaving the belt ends dangling to my knees.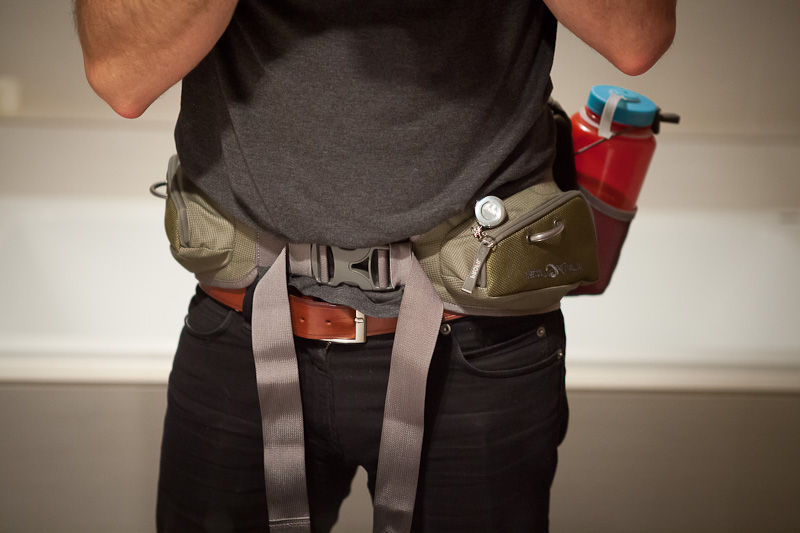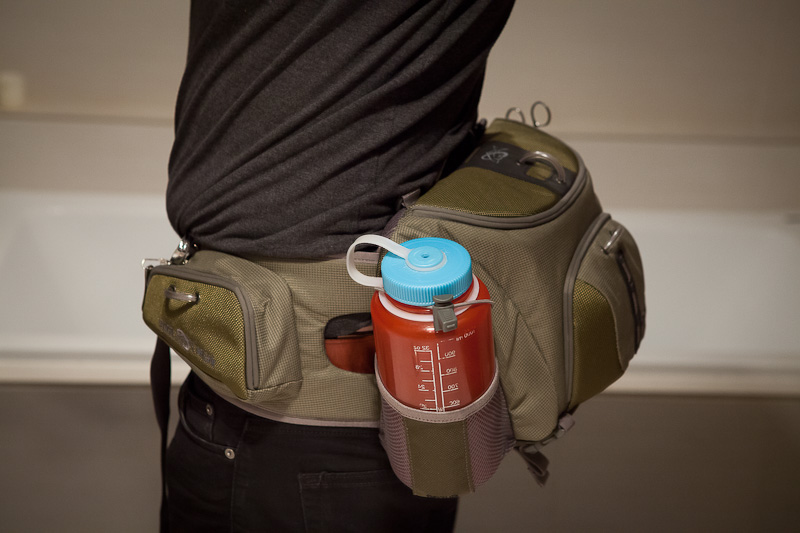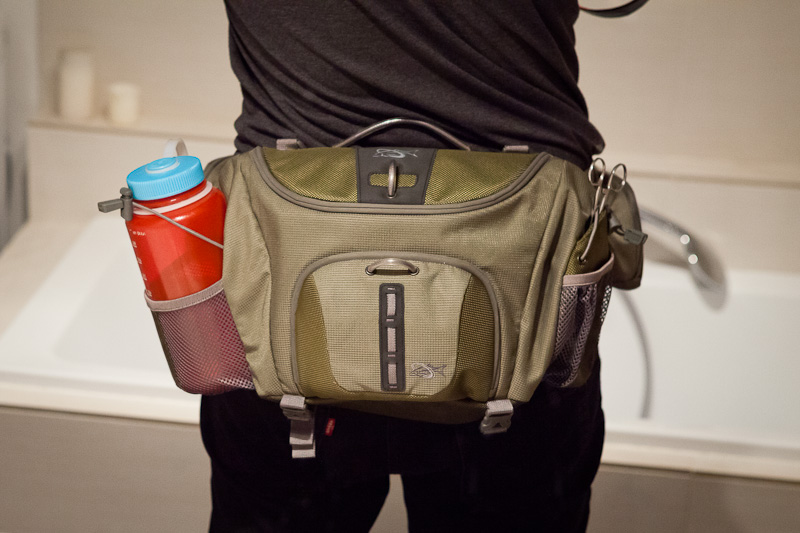 One benefit is that I have the side pockets almost in front of me, so accessing them is nice and easy.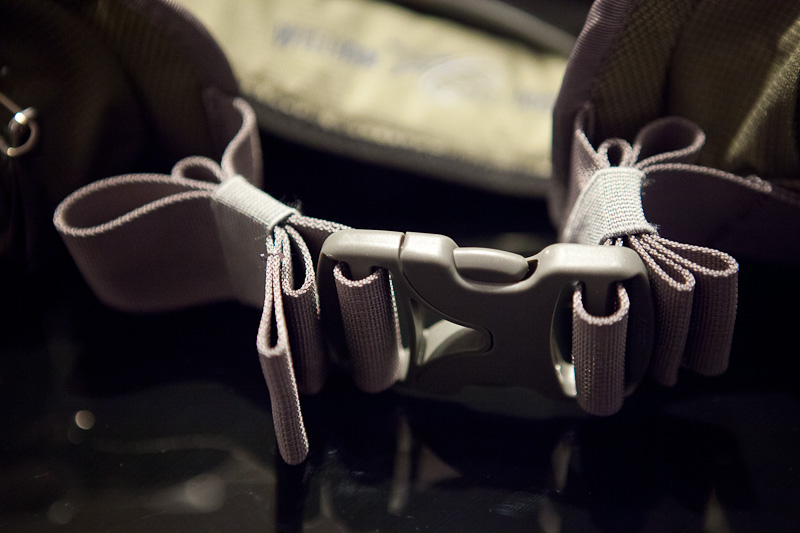 One way to keep these out of the way is to tuck them away in the front pockets. Simple and elegant.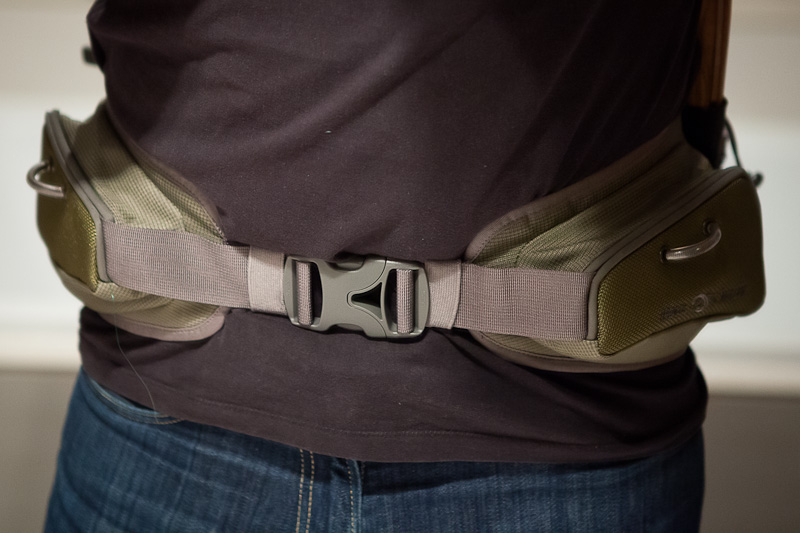 The belt also provides a nice place to attach your knife, if you carry one. I use a kydex sheath with 2 loops for horizontal belt carry, which fits this belt with space in the middle almost perfectly.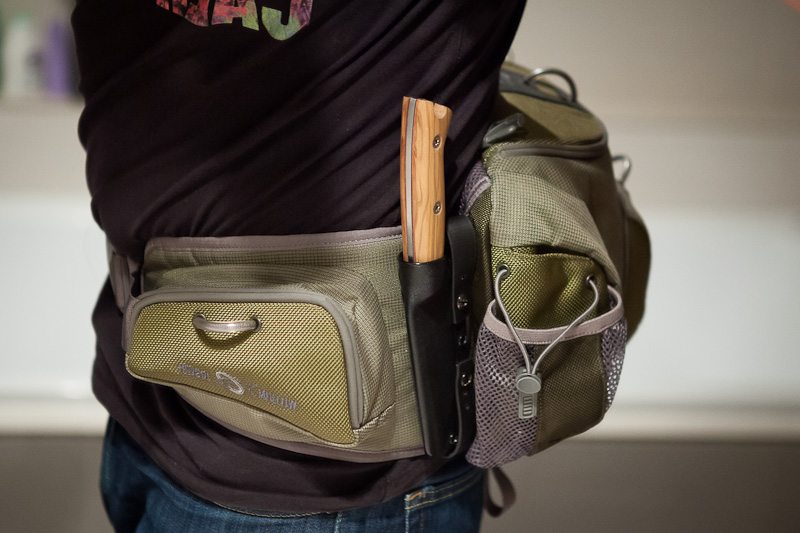 Neck strap is removable and I don't plan to use it as I don't like stuff around my neck or shoulders.
I can easily fit a large DSLR camera (Canon 5DmkII) with lens attached (Canon L24-70mm) into the bag. This weighs about 1.7kg and the bag carries the weight nicely. Shoulder strap makes it even more comfortable, how it feels after couple hours remains to be seen.

The water bottle holders do hold a large 1l wide-mouth Nalgene bottle securely. It's easy to secure it with the bungee loop.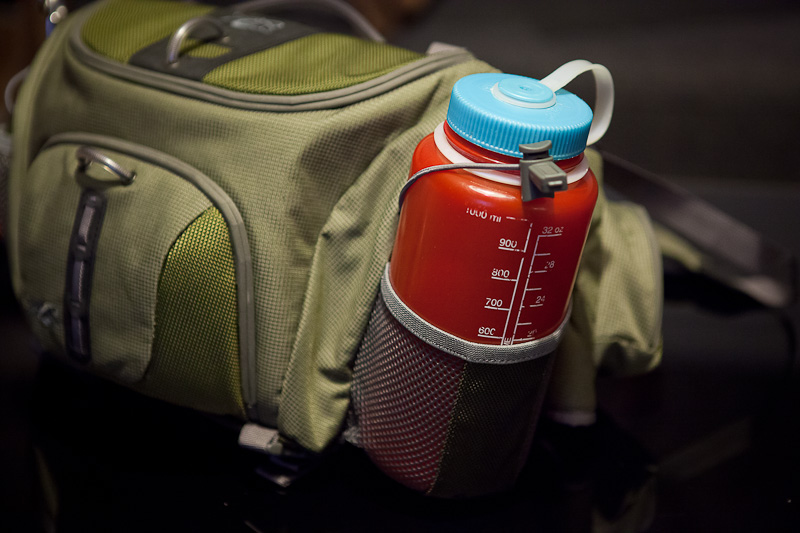 Small pockets behind bottle holders could have been deeper, 1/3 of a 5" hemostat sticks out of them.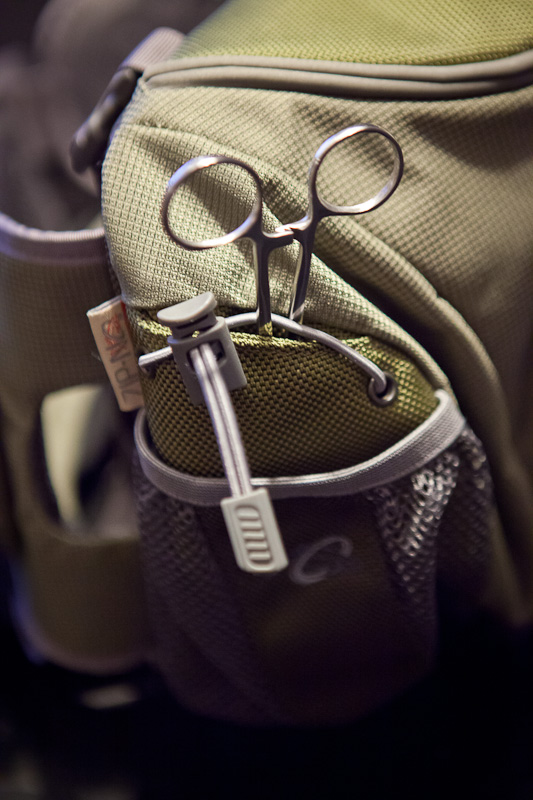 If you like separate pockets for everything, this might not be the pack for you. You have 3 outside pockets with mag closures (front + 2 hip pockets), 2 bottle holders, 2 smallish pockets behind bottle holders (see picture above), landing net pocket with no closure and the main compartment.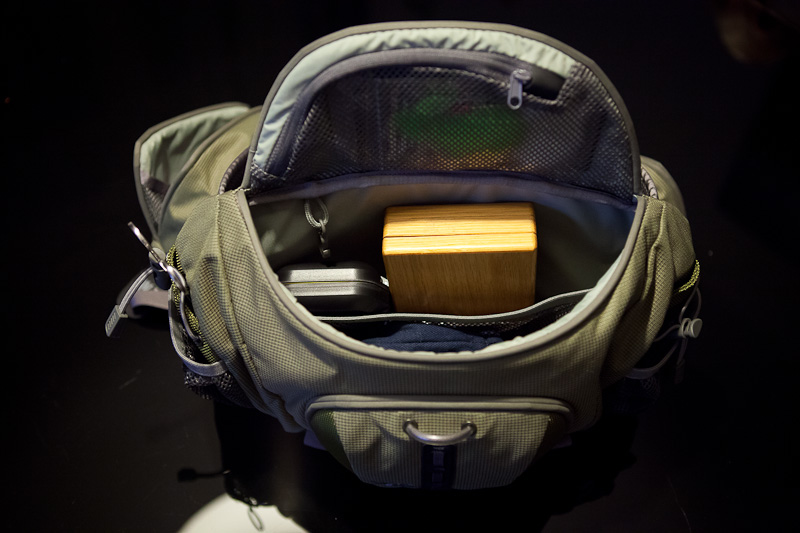 In the main compartment, there is one zipped pocket on the inside of the upper lid and 2 mesh dividers + key loop inside.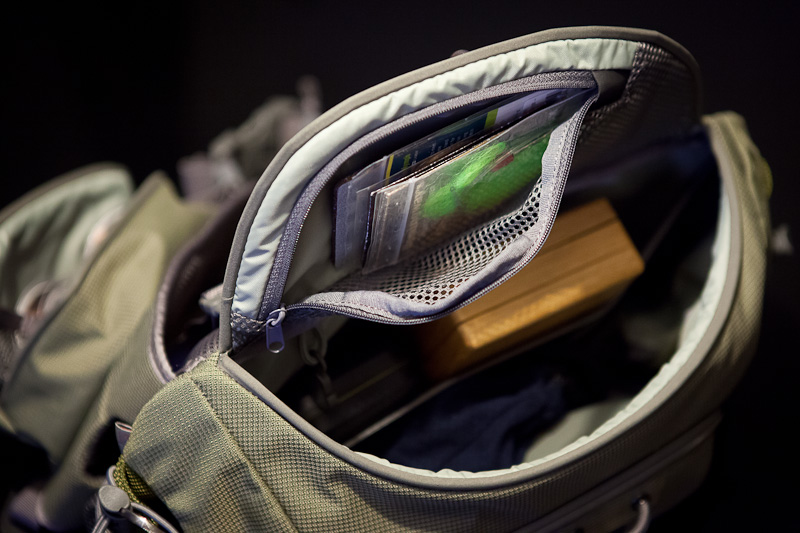 The elastic part at the top of the mesh divider isn't very stretchy and it doesn't really hold anything in place itself. I only use one large and one medium fly box and can fit them into the larger divider, so they don't rattle. There is enough space left with the flyboxes in, but fitting the camera with them in is slightly more complicated.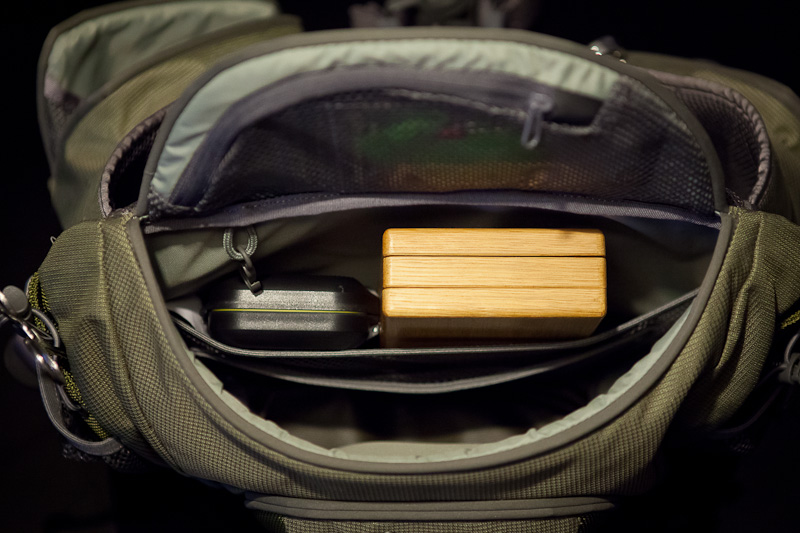 The front pocket has reinforced front panel which can work as a working bench and contains removable fly patch. Once this is removed, you can fit sunglasses into it and they might be protected just fine. Mag closure also holds flies when working.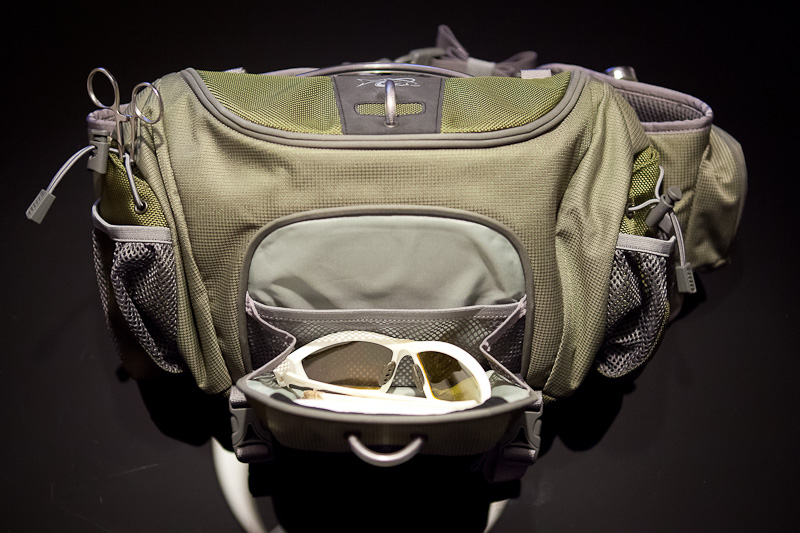 Hip pockets are quite big and accessible even with the strap fully tightened.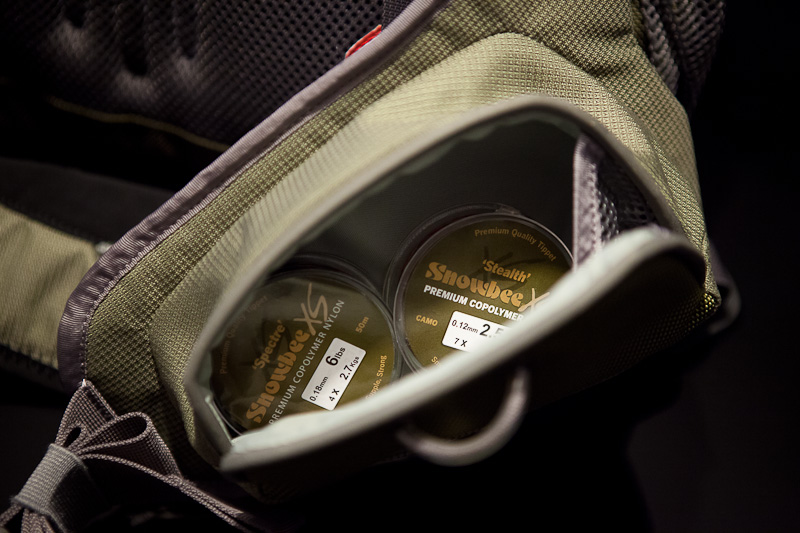 I haven't tested the landing net compartment yet. I noticed some long inside stitching tags left there. It's not a problem to trim them, but I would expect that to be taken care of it this price range. I think this landing net pocket could be used to carry flat/foldable items too, no small items though, there is a hole in the bottom.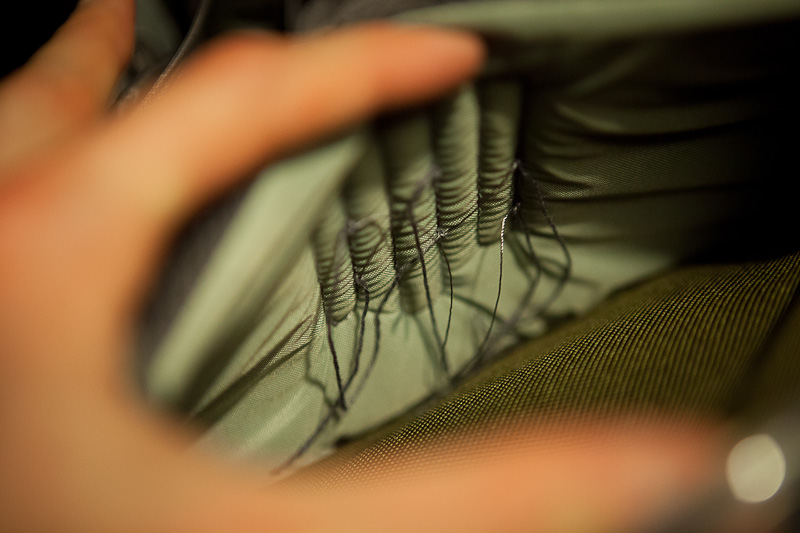 Compression straps can be used to carry a wading/rain jacket or other down layer. Here you can see a Scierra X-Tech wading jacket suspended below the bag.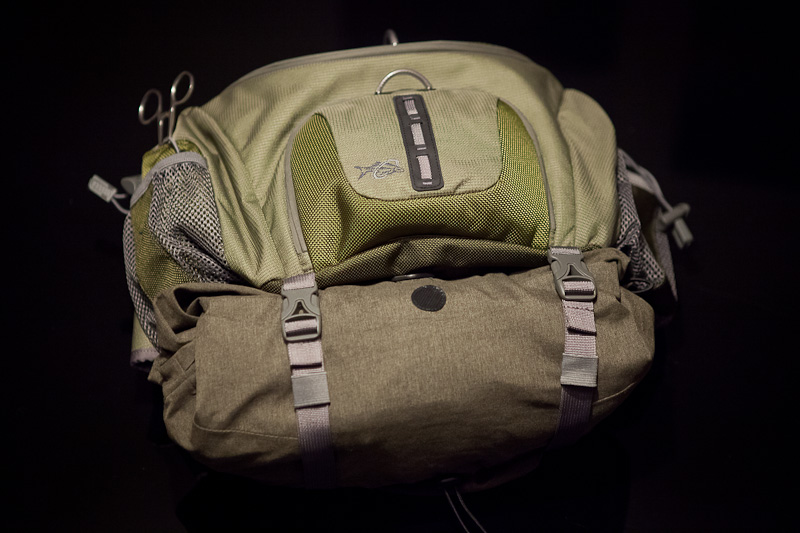 My initial setup:
Front pocket: sunglasses
Left hip pocket: 2 tippet spools (4x and 7x). What I really like here is, that you can trap the tippet end in the mag closure and pull as much tippet out as you need without a tippet T dangling around or you reaching into the pack. It also means no loose tippet ends.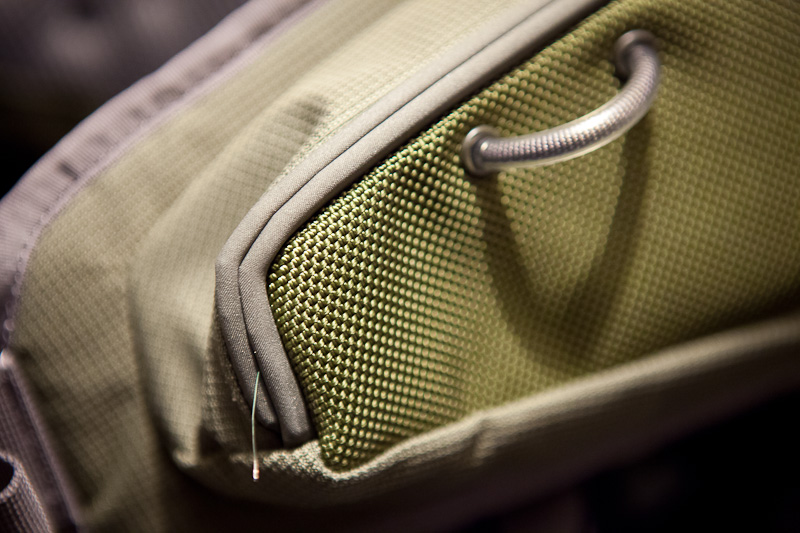 Right hip pocket: fly/leader treatments (Loon Payette paste, Dry-shake, Ledasink). I've attached snips on a zinger to the outside of this pocket (I'm right handed). Snips are made of steel so they stick to the outside of the mag closure, so there's no dangling or rattling.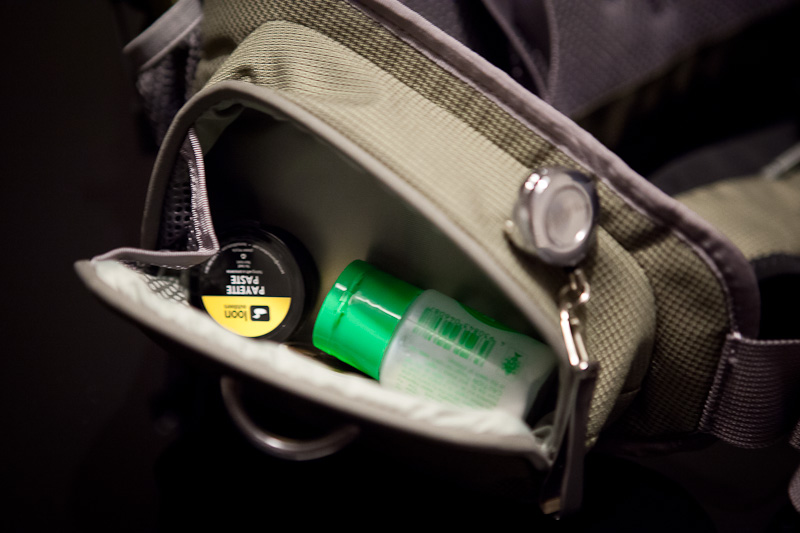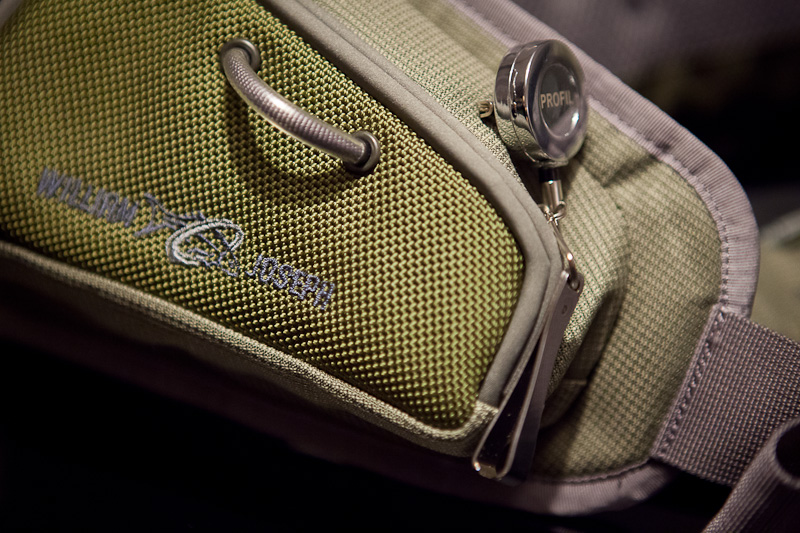 The same trick as with the tippet can be used here too. I've moved the zinger inside the pocket and the line runs freely through the closure, making it very usable and sleek.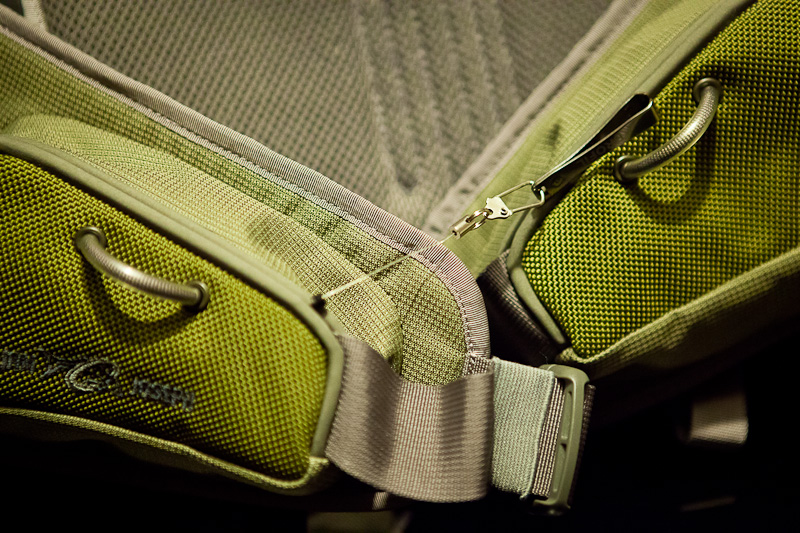 Main compartment lid pocket: leaders, NZ strike indicator, tippet rings
Main compartment: 2 fly boxes, wallet/license, plenty of room to spare

How strong is the mag closure system? Strong enough to pick the bag loaded with fishing gear listed above up by the main compartment handle.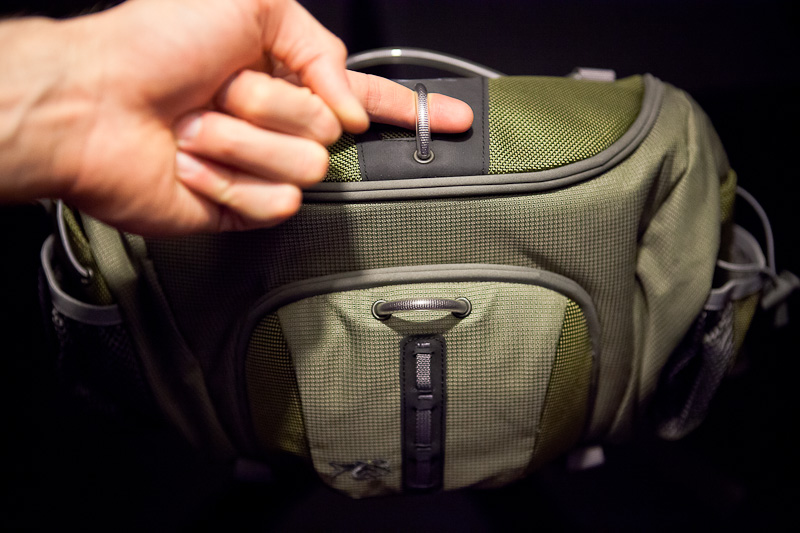 To wrap it up, my first impression is very good (apart from the stench). The more time I spend with the bag, the more I like it. Even the lady approves and thinks the mag closure system is cool. I won't be able to try it out for real until April, but I will take it out for some hikes before then.
UPDATE 1.7.2018: After using the bag for a season and a half I can't imagine going back to a zippered bag. Being able to reach to the pack behind my back, retrieve what I need and close it securely in seconds is invaluable. I also carried this bag up to 13 hours at a time without any problems. Highly recommended.