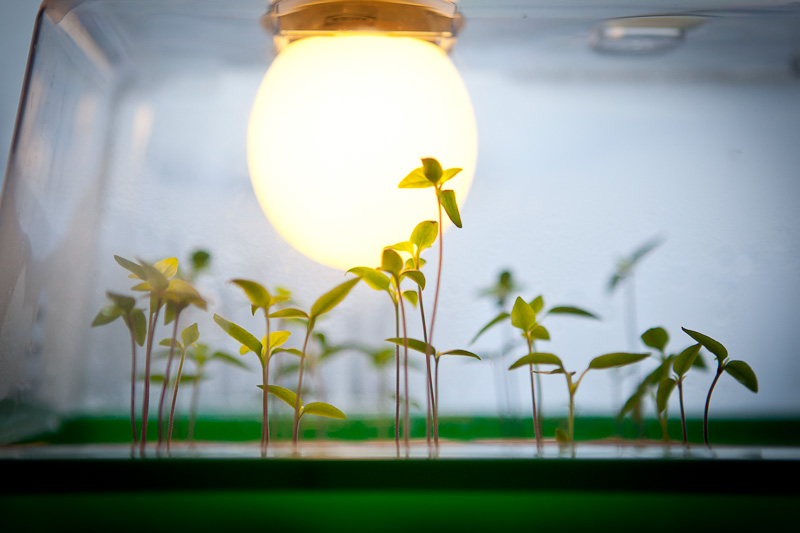 January is finally here so it's time to get ready for the next chili growing season. After some mixed results with Ebb&Flood, I will try soil this year.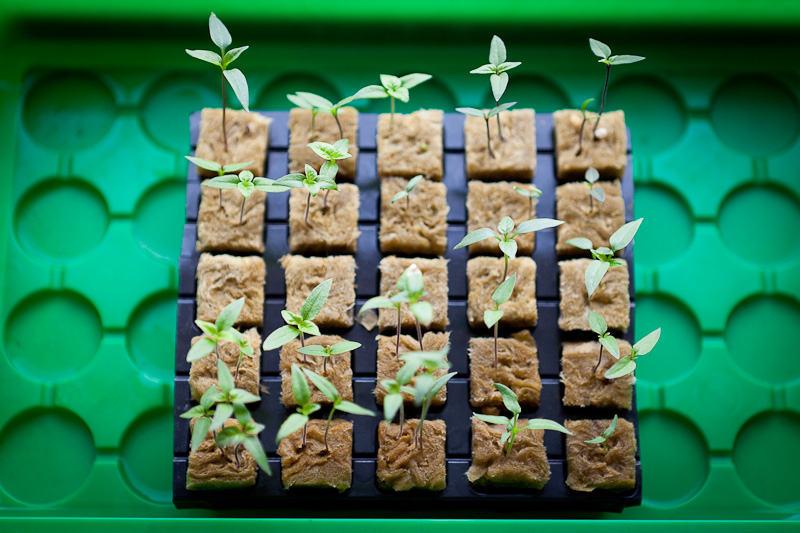 I've ordered 9 different varieties from http://fataliiseeds.net/ at the beggining of January. They were very kind and added 3 more as a bonus. I really liked Black Scorpion Tongue that I grew the last yeat, so I've decided to give it a try again. I've ended up with 13 varieties and 25 rockwool germinating cubes ready. I've sown 2 or 3 seed into each cude, two cubes per variety (except BST). Seed layout as follows:
Black Scoprion Tongue
(C. Annuum, HL 4/10)
Fatalii
(C. Chinense, HL 10/10)
Pimenta De Neyde
(C. Chinense, HL 8-9/10)
Chocolate Scotch Bonnet
(C. Chinense, HL 9/10)
Fatalii Aji Gourmet Fantasy
(C. Baccatum, HL 3-4/10)
Bolivian Rainbow
(C. Annuum, HL 8/10)
Bolivian Rainbow
(C. Annuum, HL 8/10)
Quintisho
(C. Baccatum, HL 7/10)
Fire Flame
(C. Annuum, HL 6-7/10)
Caramel Bhut Jolokia
(C. Chinense, HL 10/10)
Aji Habanero
(C. Baccatum, HL 6-7/10)
Cheiro Roxa
(C. Chinense, HL 5/10)
Cheiro Roxa
(C. Chinense, HL 5/10)
Aji Rico
(C. Baccatum, HL 7/10)
Super Chili
(C. Annuum, HL 6-7/10)
I've sown the seeds on the January 15th and put them on a radiator, keeping the temperature at 29°C. Just after 4 days the first seeds started to germinate, so I've moved the tray to a windowsil, moving it back on the radiator through the night. As of today, February 1st, all varieties have germinated (Quintisho took it's time). Overall, the germination rate was really good and it went much faster than I expected. Some seedling are little bit spindly, but this will be taken care of when repotting and topping later.
Update - February 8th 2015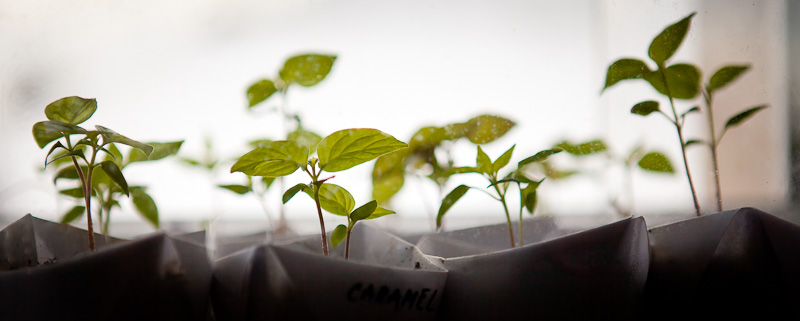 Soon after the last post, the roots started to poke out of the rockwool cubes, so it was time to transplant the cubes into the soil. Plants look very happy and are surprisingly big after just 3 weeks since sowing the seeds.
The last plant (Super Chilli) is rather interesting as it has 3 seed leaves. Also the new leaves at the top sprout at a set of three.
Update - February 22nd 2015
Another 2 weeks have passed and the temporary paper pots started to fall apart with roots sticking out of them, so it was time to repot the plants into a proper home. I've used a 1:1 mix of Plargon Light and tomato/vegetable mix and potted the plants into 15cm/1,5l pots. This mix is prefertilized for another 2 weeks, so I'll use only a pH adjusted water with a root stimulator in it without further fertilizers.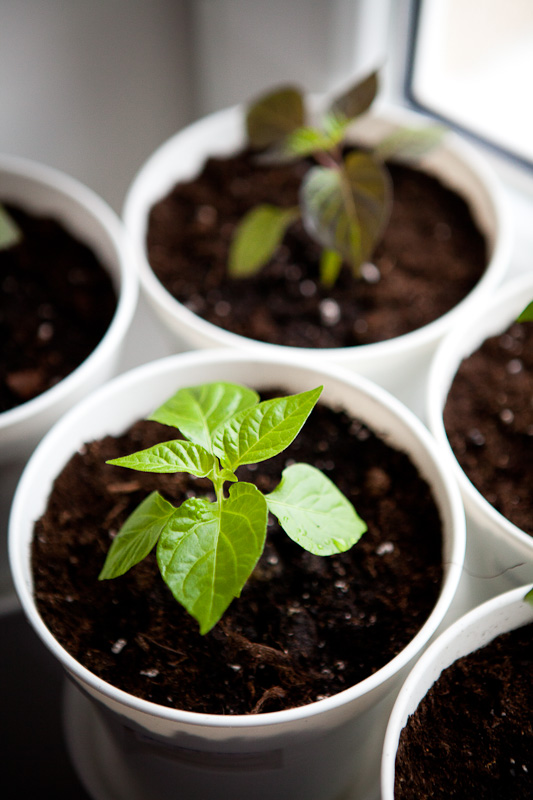 Update - March 10th 2015
There has been some really nice progress over the last 2 weeks. Plants seem to enjoy longer sunny days we had over here. One issus has occured though. I've been using Nitric Acid to adjust the water pH as the water over here is in the range of 7,5-7,8. Combined with Chili Focus fertiliser and Advanced Hydroponics root stimulator it caused slight nitrogen overdose that has shown on Fire Flame plants. Leaves started to curl downwards and large dark green patches have developed on them. I've flushed these pots with pure water and it helped. One plant recovered quite fast and the other one is getting better slowly. Other plants haven't shown any of these symptoms and are doing fine.
As the plants are slightly over 7 weeks old now, I've compared them to the last year picture. Last year, the plants have been grown in Ebb&Flood hydroponics system combined with 18 hours of artificial light per day. This caused drastically faster growth. It's worth mentioning that this quick growth has taken it's toll as it was difficult to keep the plants happy in the long run. We had problems with big flower drop, probably caused by the lack of sunlight as 250W HPS light wasn't enough. Plants were sown on November 25th 2013 and this picture was taken on January 13th 2014.
Mini Update - March 15th 2015

Update - April 3th 2015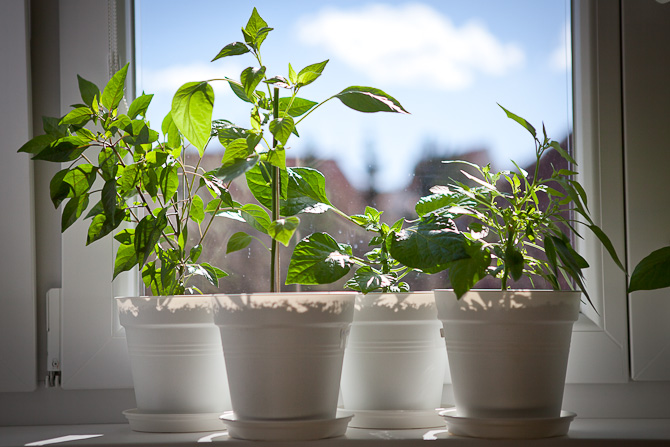 2 weeks ago I've topped half of the plants to see the difference it will make. You can find all comparison pictures and conclusions in a separate Chili plant topping post.
Update - April 18th 2015
Another 2 weeks have passed and the topped plants have branched out nicely. I've been hardening them off by placing them outside for the last week and I plan to repot them into the big containers as soon as night temperature stays above 10 °C.
Update - April 19th 2015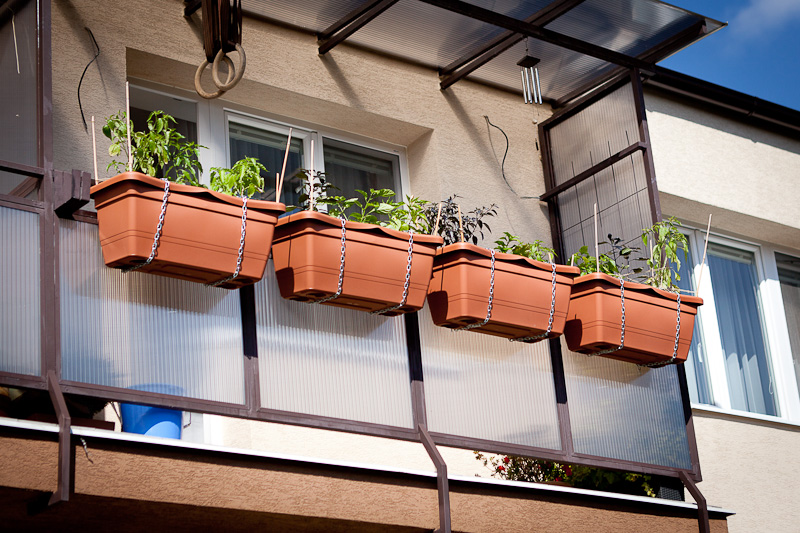 Weather got really nice with good forecast for upcoming week, so I've moved the plants outside. Read more about my Balcony chili garden here.
Update - June 13th 2015
I've stopped picking flowers on May 1st 2015 and by mid June, there were plenty of pods forming on almost all plants.
Chili plants really enjoy warm days and night especially. Thay don't really need all that much direct sunlight as they need warmth. Plants that I've placed in the greenhouse are at least 3 weeks ahead of my balcony plants, despite that the greenhouse is partially shaded.
Update - August 1st 2015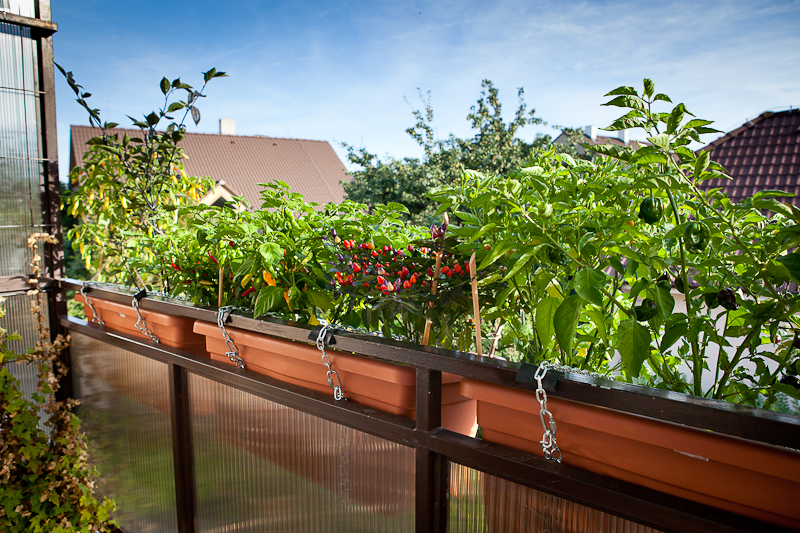 Chilli season is in full swing and all plants are producing nicely. I've started picking up the first pods as soon as they matured. This stimulated the plants to flower again and many new pods have formed throught the last month.