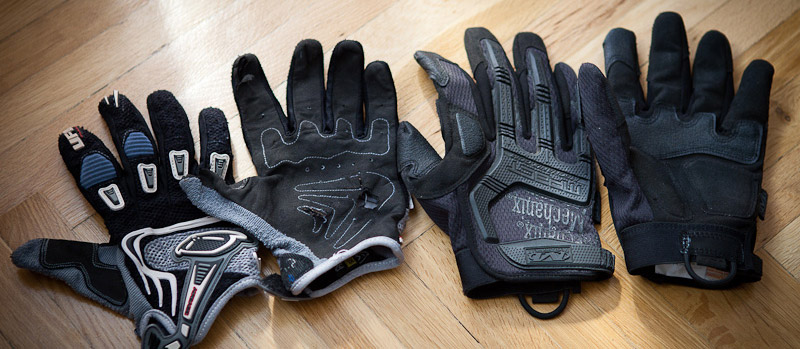 There are many reviews on Mechanix M-pact glove, but none of them mentions their use as a MTB glove. 6 months ago, I had a nasty crash that ended my season prematurely. I took away 2 things: 1. pushing for one more ride in a bikepark when it's raining and you are really tired isn't a good idea; 2. 5cm (2") L-shaped scar on my left palm resulting from an open fracture.
This is what the crash did to my previous gloves, UFO Airbase.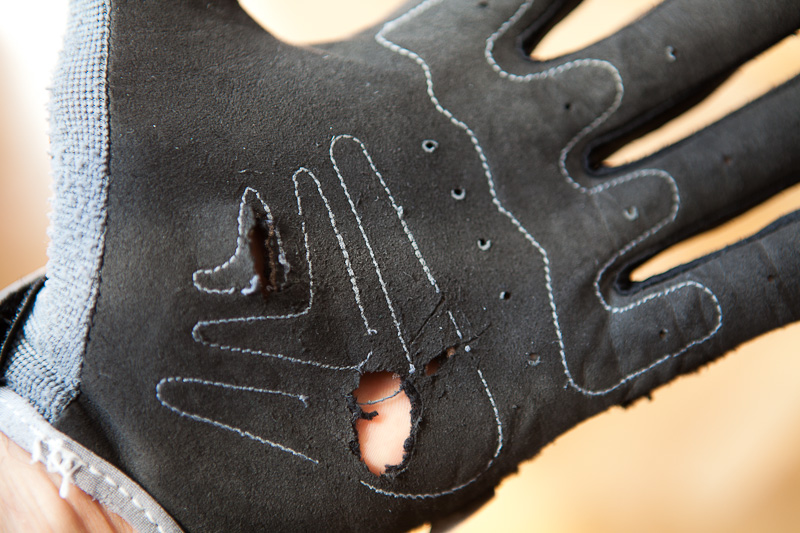 Surprisingly, what caused the hole on the right didn't even scratch my skin, but the hole on the left continued through my hand.
Couple months later my hand is reasonably ok and I ride again, therefore I needed a new glove. I wanted something more rugged, that would protect my palms better if something similar was to happen again, but it still had to breathe and wick moisture well. I came across some raving reviews about Mechanix gloves, especially "The Original" which was praised for MTB use as well. It wasn't any more robust than my old gloves though, and it also suffered from wear on index finger and thumb tips.
Then I came accross the Mechanix M-pact which is rated as tactical/multi purpose glove. The reinforced palm and index finger/thumb tips immediately caught my attention. One local army store had them in stock, so I went to try them on and bought them the next day.
Fit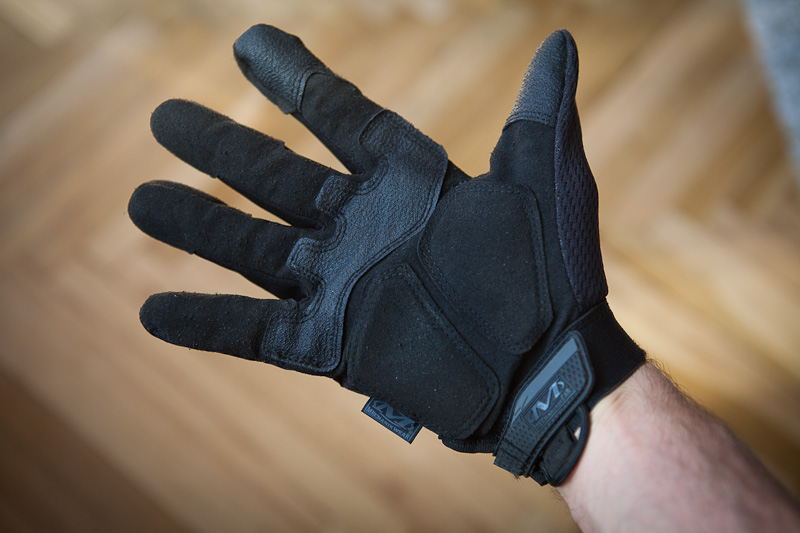 I find it difficult to find gloves that would fit me well, as I have fairly large hands with very long fingers. That's why I didn't expect them to fit perfectly (no gloves do). Large size was ok, even whan I usually have to go for extra large. It's something to keep in mind if you plan to order online. Mechanix also offers a nice size chart you can print out and measure your hand with.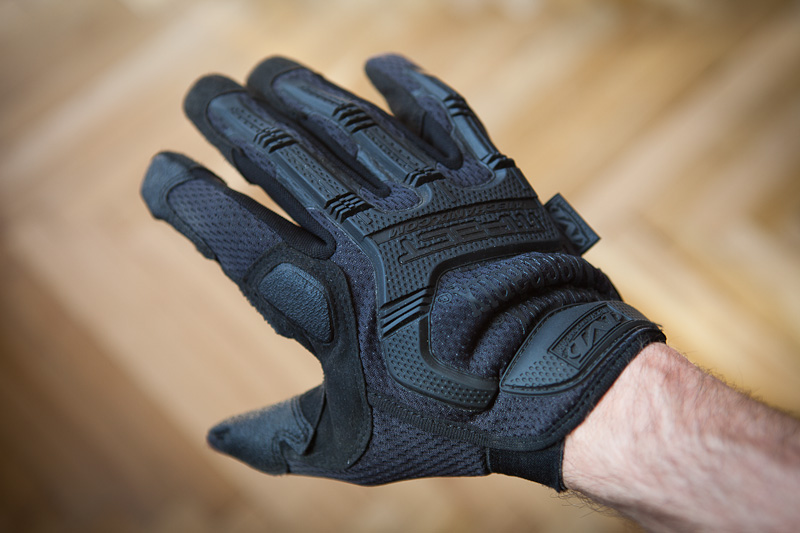 What really matters is how the glove feels when gripping a handlebar. At first, the index finger seemed little short and the inner seam kept getting under my nail, but after two rides it gave in and it feels good now. The reinforced palm is noticeable, but is not as thick as a padded MTB glove. Overall, the glove is remarkably well put together, everything is double stitched and the materials are of very high quality.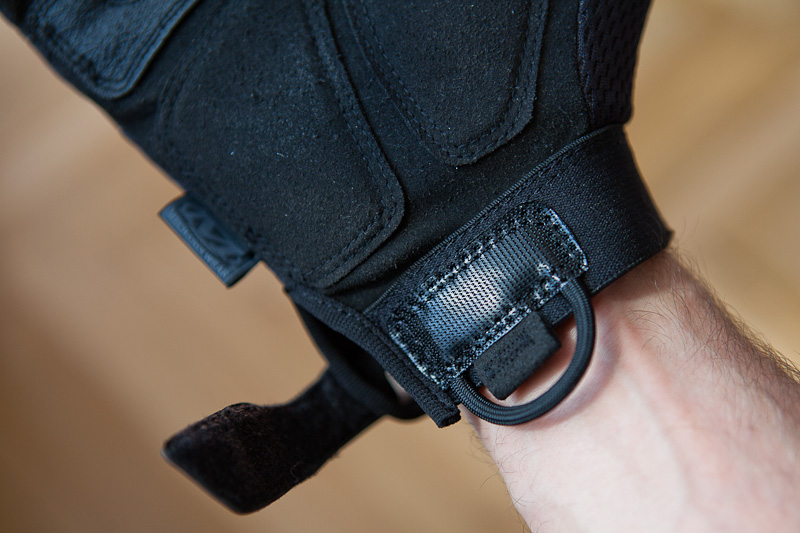 Other thing that I like is the reinforced index finger and thumb tip. These are the spots where my previous gloves always used to come apart pretty fast.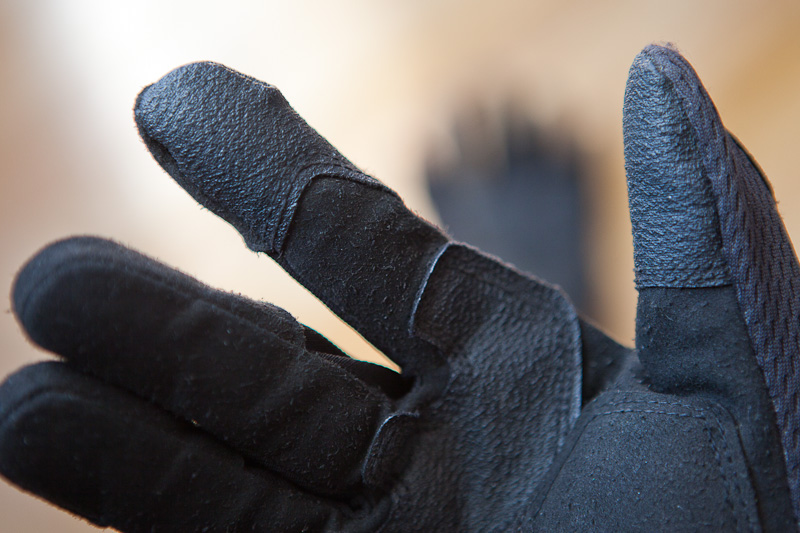 Even with reinforced finger tips, I'm still able to pick up small items like coins or screws without getting my gloves of.
Mechanix M-pact - The ride
As the Mechanix M-pact gloves are a bit bulkier than regular MTB gloves, it took me a ride or two to get used to the new feeling. When the gloves broke in, they feel as good as regular MTB gloves. Thanks to the reinforced palm they significantly reduce vibrations, but still provide enough feedback for braking and shifting. Mesh at the back of the hand enables sufficient ventilation, so riding in ±20°C didn't cause swampy hands. I'm curious how they will perform in 30+°C heat.One more detail about reinforced thumb and index finger. While the material is rugged and abrasion resistant, it's quite slippery when in contact with metal (brake lever, dropper post remote) so the experience is little bit different and may take some time to get used to, but braking feedback is still very good. It's not an issue, it's just different.
Conclusion
I always thought that MTB specific gloves are overpriced. You can get better gloves for less/same money if you look outside "MTB" labeled stuff. Mechanix M-pact gloves might not be MTB specific, but it checks all the boxes on my list. Time will tell how they withstand trail abuse combined with general use around a house.
Very few things can be learned just from reading a book, but this one has opened my eyes and I realized the mistakes I was doing. Well written with great images it's an investment well worth the money. Check it out